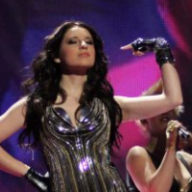 So, what do we make of the Thursday show? To be honest it was a bit bland. The songs that we expected to go through did go through and the failures decided it would be a good night to fail.
The main "shock" or at least the headlines will be the loss of Dana International, now the only returning lead artist to have failed to qualify out of the modern semi-finals and get to the Saturday night show. Expect a post-mortem of diva like proportions in the Israeli delegation. Maybe attending all your press conferences next year would be a good idea?
And Sweden can put down Anna Bergendahl as an aberration, and stop the rot with Eric Saade delivering on the promises made by the Manboy last year.
The Qualifiers and Running Order
Bosnia (slot of death, running second)
Denmark (running 3rd)
Ireland (running 6th)
Sweden (running 7th)
Estonia (running 8th)
Moldova (running 15th)
Romania (running 17th)
Austria (running 18th)
Slovenia (running 20th)
Ukraine (running 23rd)
We've bounced around the full running order here with the ESC Insight team and all we can come up with is the more powerful songs are running early, and the songs that needed a boost from a late running position are all running late. To be honest this is such a balanced draw that we're struggling to spot any clear winners.
But to give some punditry, Slovenia are probably the best placed from these qualifiers, Ukraine is going to be a wildcard and depend a lot on ho Mika manages to sing, and Ireland have a tough call. the last time a country won from 6th?
1957.
Leave a Reply