Posted by
Ewan Spence
on Oct 17th, 2012 in
Headlines
|
2 comments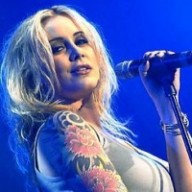 After dancing around the story during the summer, TROS announced today that Anouk will be singing for the Netherlands at Eurovision 2013. The singer is the first confirmed name for the 2013 Song Contest.
Over on EscXtra, Nick has surmised Anouk's journey to Malmo so far:
In July 2012, Anouk announced via social media that she had a 'killer song' ready for the Eurovision Song Contest 2013 in Malmö. She added that she did not want to take part in a national final, like TROS planned. TROS at first reacted by saying that everyone who was interested, could just submit a song to TROS for the national final. The broadcaster already requested airtime for January 2013, in which the preliminaries and final of the national final were going to take place.

However, soon after this, heavy criticism from the Dutch music scene – where former participants said that 'if someone like Anouk offers to go to Eurovision, you should always give her priority over a national final' – occured. TROS announced that they were going to start talks with Anouk and her management to see if they could reach an agreement.
As to Anouk's live skills? Here's a little sample:
Leave a Reply