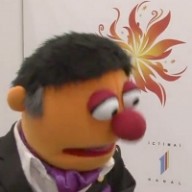 If there was an ESC Insight star player at Azerbaijan, who picked up more coverage, more column inches, and more kisses, than the rest of the team put together it would have to be Terry Vision.
The Eurovision Team seemed to think the same, and as the 2012 Contest came to a close, they decided they needed to profile our Senior Interviewer for the official website. Terry can't escape Eurovision fever, even in the summer months.
Here's Terry's interview, mixed in with some highlights of his time in Baku.
Meet Mister Terry Vision…
We've checked in with Terry to ask how he's getting on. Mrs Vision is still wanting the new car, and that means Terry is still looking for some summer work until the National Finals get under way. Perhaps someone will hire him to cover the Edinburgh Fringe…
Follow the further adventures of Terry here on ESC Insight, or at his new blog, Terry Vision on WordPress.
Leave a Reply