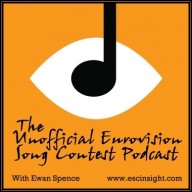 Podcast: Play in new window | Download
Welcome to 2012, and I hope you all had a great holiday, because the world of Eurovision is about to get very busy.
Not as busy as May, but now is the time for the song selection process to really make a dent in that entry list. We have two entries so far (Switzerland and Albania) but there's another 40 (maybe 41) to discover in the  next three months.
Eurovision Insight Podcast: The George Clooney Edition
Will it be 42 or 43 in Baku? We still await news on the final entry list, but the heats continue as countries around the continent search for their Song for Europe. With details on date changes, deadline problems, musical selections and music from Gianni and the Maltese selection, it's the latest news from the ESC Insight podcast.
Don't miss an episode of The Unofficial Eurovision Podcast by subscribing to the RSS feed dedicated to the podcasts. iTunes users can find us in the iTunes Store and get the show automatically downloaded to your computer. You can support the site by buying our Junior Eurovision book It's Cold and there are Children Singing from Amazon.
Thank you once more to BMI for their support, which allowed the ESC Insight team to cover the National Finals in December.
Leave a Reply