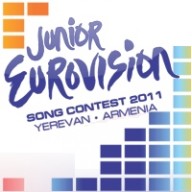 Podcast: Play in new window | Download
We're just a few hours away from the final of the Junior Eurovision Song Contest 2011 (which you can watch via the EBU's official website www.junioreurovision.tv if it's not broadcast where you are), so just a quick chat today as I ask the panel for their favourite JESC 2011 song, their best moments, and of course the big one…
…who do the panel think will be the winner?
Don't forget our @escinsight Twitter stream during the final and we'll see you on the other side with more news podcasts, articles, and chat around the world of Eurovision.
Junior Eurovision Insight: Chat from Yerevan, Saturday 3rd December
Hosted by Ewan Spence, with….

JP Boernig (Radio International)
Liam Clark (EscXtra)
Luke Fisher (EscXtra)
Ervin Juhasz(EscXtra)
Sharleen Wright (ESC Insight)
Thank you once more to BMI for their support, which has allowed the ESC Insight team to cover Junior Eurovision in Yerevan.
Don't miss an episode of The Unofficial Eurovision Podcast by subscribing to the RSS feed dedicated to the podcasts. iTunes users can find us in the iTunes Store and get the show automatically downloaded to your computer. You can support the site by reading ourJunior Eurovision Guide on Amazon Kindle.
Leave a Reply