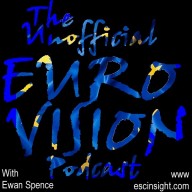 Podcast: Play in new window | Download
More adventures in the forty three songs getting ready to sing on stage at Düsseldorf this year, as six of them stand up in front of this week's judges Elaine Dove and Paul Jordan.
Happy with the judges opinion? Ready to disagree on their calls of Hit, Miss or Maybe? Let us know in the comments, and we'll be back next week with more from the Juke Box Jury
Eurovision Insight Podcast: Juke Box Jury 2011 Heat #3
With Elaine Dove and Paul Jordan.

Georgia: One More Day, by Eldrine.
Bulgaria: Na Inat, by Polly Genova.
FYR of Macedonia: Rusinka, by Vlatko Ilievski.
Malta: One Life, by Glen Vella.
Iceland: Coming Home, by Sjonni's Friends.
Israel: Ding Dong, by Dana International.
Don't miss an episode Ultimate Juke Box Jury (or any of The Unofficial Eurovision Podcast episodes) by subscribing to the RSS feed dedicated to the podcasts. iTunes users can find us in the iTunes Store and get the show automatically downloaded to your computer. Want to support the site? Why not consider pre-ordering the official Eurovision CD from this affiliate link on Amazon?
Leave a Reply